Milestone can add the significant value to the project. Each milestone has a number of tasks associated with it. This allows you to schedule the project with the appropriate segments, which helps to solve the issues arose in the segments. Each milestone is broken into a number of tasks should also define with the start and end date or the deadline for completion and this can be assigned to an employee.
Set the duration for the milestone
Set the status
If the billing method is Milestone billing
Set the base fee for the milestone
Assigning tasks quickly
Mark as complete
Print as PDF
Delete milestone
Create multiple tasks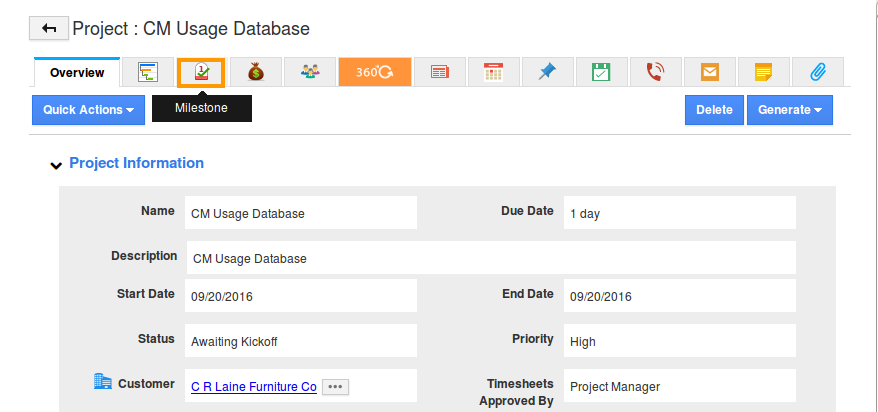 Tasks
Tasks are the tiniest part but play a major role in the project. A task can be accomplished by a defined time or deadline. These tasks can be assigned to a particular employee.
If the tasks are marked as billable, at time of invoicing the project, automatically these billable tasks are carried for invoicing. In other case if the billing method of the project is time and expenses then task should be completed for invoicing.
Add a task
Set task duration
Assign a task to a person
Set task associated with
Set the status of a task
Set the task as billable
Edit/ Delete a task
Create multiple subtasks
Sub Tasks
A task can be broken down into multiple sub tasks. Subtasks are structured like a task. This will be found under the task view page one of tabs along with the work log, notes and documents.
Create subtasks
Set the subtask duration
Edit/ Delete a subtask
Mark as complete
Notes
These notes can then easily be viewed by other employees working with this task. This is the way to share the suggestion among them.
Add Notes about subtasks
Edit notes related to subtasks
Documents
By using Documents App you can share documents easily. Upload all your documents instantly through this app and share the same with those others who had access to the folder. In order to have your Documents sync properly with App, you must set up your Google Apps.
Upload documents
Add Google documents