There are several different configurations account administrators have access to.
Business Settings (super user)
User Settings (super user)
App Settings
Business Settings
This gives you access to control the overall business settings. Click on your name in the upper right corner > Business settings.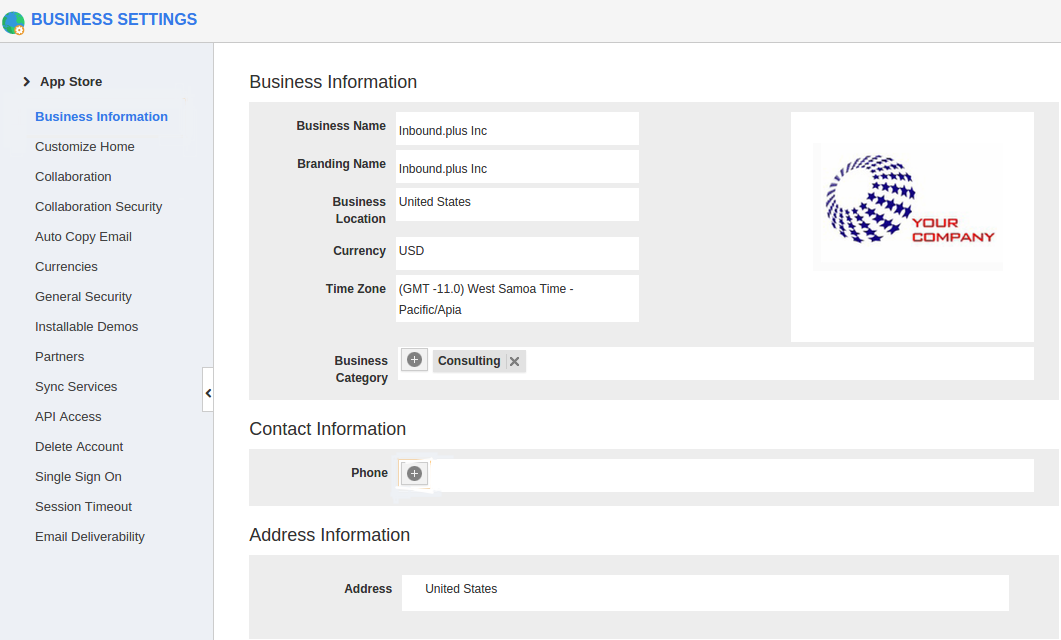 Business Information – Basic business information that will go on your invoices and estimates.
Collaboration – Control my agenda, news feed, calendar, follow ups, tasks, emails, call logs & work queue are viewable or not.
Collaboration Security – Configure who will have access to events, call logs, tasks and/or emails.
Currencies – Support multi currency conversion to your currency of choice.
Installable Demo – Download a sample demo of customers and projects.
Partners – Connect with an existing partner.
Sync Services – Turn on Google calendar or task sync. (Requires a G Suite for Business account)
As the administrator of the firm, you'll also be able to control which apps your employees see and have access too. Assign employees default roles or create your own custom roles.
Individual User Settings
Each employee will be able to setup their own preferences. Click on your name in the uper right corner > Preferences.
General – Reset your password or set your own time zone.
Email – Setup IMAP for any email address. Automatically associate emails to individual objects.
Collaboration – Rearrange activies and select what you see when you login.
Customize Home – Select the menu type and the default apps that will appear in the main navigation.
Notifications – Setup news feed and/or email notifications.
App Settings
The majority of configuration lies within each app. The CRM gives you the controls inside each app settings.
Data Level Access – Set it so either the assigned or all employees will see the object.
Customize App – Personalize by adding or removing fields. Set security on each section.
Customize Views – Save a custom search result to be easily accessible.
Custom Numbering – Set custom numbering or leave it on auto numbering.